Today, 16th December 2020, the Supreme Court overuled the Court of Appeals decision to block the third runway.
Earlier this year, Heathrow confirmed their intention to still proceed with the third runway, subject to the necessary authorities. The expectation is that by 2030, the targeted year for the new runway to open, Covid-19 and it's impact on the aviation industry will be a distant nightmare.
The technical considerations for the challenge in relation to the Paris climate change agreement are well documented so this article won't comment on them. What we shall comment on is the affect on the Homeowners.
Effectively, there are two main groups of homeowners affected by the plans. Approximately 760 homes will be required to be demolished in what is known as the Compulsory Purchase Zone. The majority of homeowners will be entitled what is known as the Enhanced package, where Market Value + 25% + disturbance compensation + fees for a Valuation and Legal costs for a sale and option agreement will be payable.
For those homeowners whose homes are not under threat of demolition but who are very nearby in what is known as the Wider Property Offer Zone, they may also have the opportunity to sell on what is a more attractive package than any we are used to, working in Compulsory Purchase.
There will be some who are only entitled to the Statutory package, details for which are in the below image.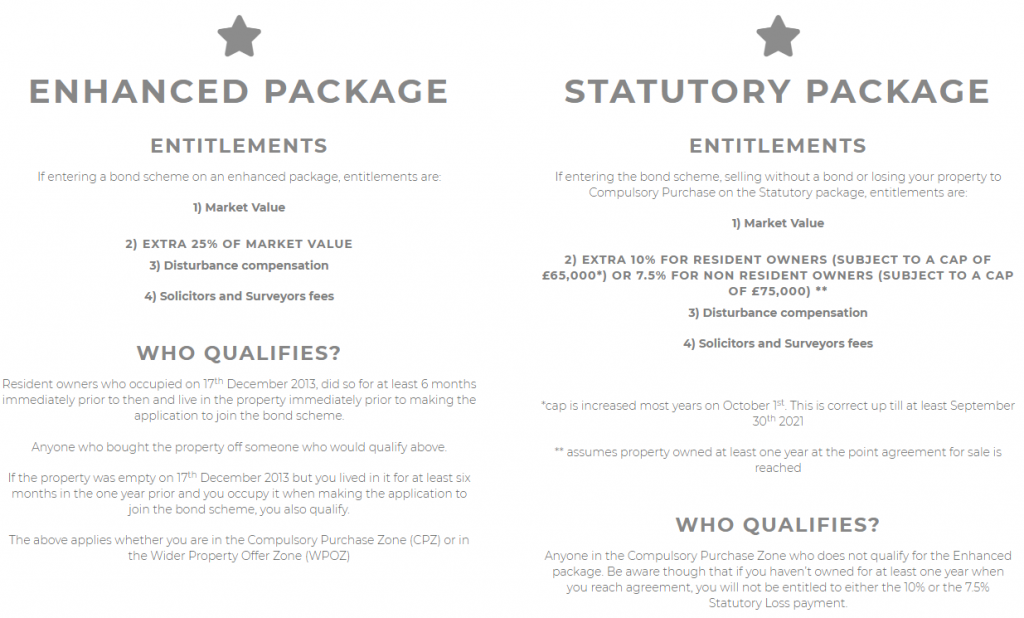 Disturbance compensation
The below table provides an illustration of the sort of items that are normally covered in disturbance compensation, one of the main entitlements.
What we aren't aware of yet, is whether itemised claims will be required or whether there will be a global lump sum offered in lieu of further claims.
Development Consent Order
The main regulatory hurdle now for Heathrow is to ensure that they receive a Development Consent Order. This will provide Planning Permission, Compulsory Purchase powers and a range of other authority's. This does need to go through Government, which in theory could mean that the third runway is still blocked. After all, Government accepted the Court of Appeal judgement beforehand and Boris Johnson's personal support has wavered.
However, it is thought that this consent is likely to be a formality, albeit one that takes time and is expensive to obtain.
What can we do?
At some point in the not too distant future, Market Valuations will be required. We'd like to provide one for Homeowners and do so at Heathrow's expense.
Heathrow will choose a Valuer/Chartered Surveyor from their own panel for the one valuation. The homeowner will be able to choose it's own Surveyor or one from the Heathrow appointed panel.
We'd like Homeowners to choose us. So why should you?
Well…
Our database which cost tens of thousands of pounds to create, provides us with details of the most recent sale or letting of nearly all of approximately 6,000 properties in the Compulsory Purchase Zone and the Wider Property Offer Zone. We know the local market very very well.
We realise you have a choice so if you use it for us, we'll be offering additional services that Heathrows panel Surveyors won't.
Part of every fee we receive will go to our Sawyer Fielding gives back charity service, which will shortly reach over £30,000 to date.
When should homeowners contact us
The sooner the better really. Until Heathrow announce they are ready to consider valuations, there's no point in us coming out to see people yet. However, for when we do, there's likely to be a rush. We could have hundreds if not thousands of homeowners requesting our help when we write to everyone, using contact details we've sourced from the Land Registry.
If you're a homeowner looking for information, please provide us with your contact details including telephone number and e-mail address. Those we have spoken with or exchanged e-mails with, will be the first ones we contact when we're able to provide valuation reports.
Dan Knowles MRICS
Director & RICS Registered Valuer
E-mail: danknowles@sawyerfielding.co.uk